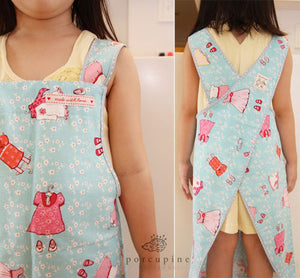 Porcupine Patterns
Free Cross Back Apron for kids and adults
This is a free pattern originally posted on my blog - http://www.japanesesewingbooks.com/2013/01/29/free-pattern-tutorial-and-sewing-video-cross-back-apron-for-adult-and-kids/
There is only one size for kids and one for adults for the free pattern. A new sewing pattern with more sizes will be coming soon in the store!
The zip file you will download, will include the patterns only. Please refer to the link above for instructions.

Please Note : Due to large volumes of emails received everyday. There will be no email support for free patterns as these have been well documented and discussed in the blog. Thank you for your understanding!
---
More from this collection