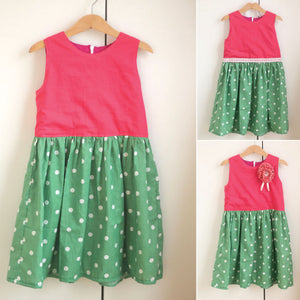 Porcupine Patterns
Simple Dress Pattern
This is a free pattern for a simple bodice + skirt dress and comes in 5 sizes.
18mth/Chest:52cm/Waist:49cm/Waist-Knee:30cm 
3yrs/Chest:55cm/Waist:52cm/Waist-Knee:34cm
5yrs/Chest:59cm/Waist:56cm/Waist-Knee:38cm
7yrs/Chest:63cm/Waist:60cm/Waist-Knee:42cm 
10yrs/Chest:72cm/Waist:63cm/Waist-Knee:48.6cm
The files include patterns as well as the instructions. You can refer to the original blog post as well - http://www.japanesesewingbooks.com/2013/02/27/free-pattern-tutorial-and-sewing-video-a-simple-dress/
Or visit my youtube channel to view the tutorial
Part 1 - https://youtu.be/N6C6ymmxJUg
Part 2 - https://youtu.be/sWAwNb3ckBw
Please Note : Due to large volumes of emails received everyday. There will be no email support for free patterns as these have been well documented and discussed in the blog. Thank you for your understanding!

---
More from this collection